Glasgow Wedding Coach Hire
With Glasgow Wedding coach hire you can arrange minibus or coach hire seven days a week to take you to Glasgow; so whatever day your ceremony is on, we can take you there.
A wedding is a special event so you need a special company like ours to work with you to ensure your big day runs seamlessly.

We have a team of drivers based in central Glasgow. From here they can cover the whole region. They can also take you beyond Glasgow and arrange pick-ups and drop-offs at Glasgow and Glasgow Prestwick airport if some of your guests will be arriving by air.

When you need Glasgow Wedding coach hire, Scotland becomes so much easier to get around with one of our drivers at the wheel. As they are local they know the area well. Your guests will be at the ceremony in good time.
Vehicles come from a pool of well maintained, stylish minibuses. These come in various sizes: 8 seater, 16 seater and 24 seater. If you have a very, very large group of guests to get to the ceremony or reception, we can offer 33 seater, 49 seater and 70 seater coach hire.

Getting the finishing touches just right makes all the difference on wedding day. Our drivers are courteous and helpful and will assist in any way as the ceremony approaches.
Our vehicles can be modified with side transfers bearing personal messages, confetti to launch, colourful streamers, witty signage or personalised music from your playlist that we can amplify throughout your passengers' journey on the way to the ceremony.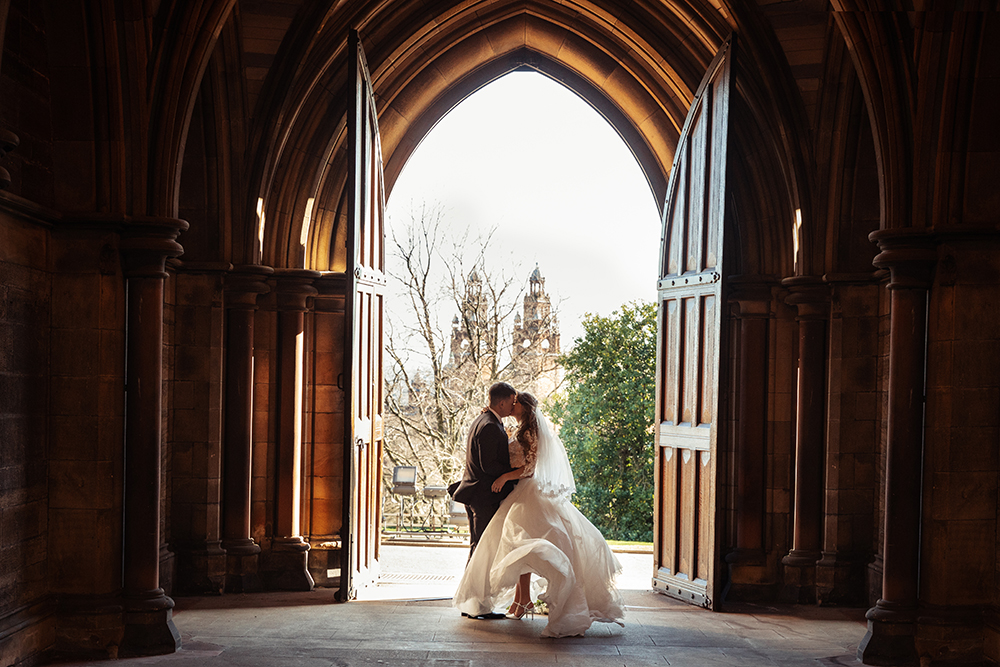 How To Book – Glasgow Wedding Coach Hire

Making a booking with Glasgow Wedding coach hire is beyond easy. We are good listeners so just contact us with your special requirements and we'll provide all you need.
Our punctual drivers will be with you on time. So don't worry about any guests arriving after the happy couple's grand entrance.

Client accounts are available. If you will require subsequent, ongoing journeys to Glasgow, this client account is a good way to keep your long-term transportation costs down.

There are also wheelchair accessible vehicles available for hire. So everyone can enjoy our journeys, these vehicles had ramps, a lift and wider doors.

There are a lot of big costs incurred with a wedding today. Transportation may be one of them – but not with us.

Plan your wedding itinerary with us. We'll allow time for hotel drop-offs, rail station pick-ups, scenic routes, whatever you need to make the day go smoothly. Peace of mind guaranteed.

To book with Glasgow Wedding coach hire, all you need to do is type or dial the details below:

T:  0203 239 4622
E:  [email protected]