St Giles Cathedral Coach Hire

With St Giles Cathedral coach hire you can arrange minibus or coach hire to the Scottish capital 24/7, all year round to visit this stunning cathedral. Booking is easy with the Scotland Coach Company.
Whether you are heading to Edinburgh for a memorial service at the cathedral or just going to check out the lovely architecture, let St Giles Cathedral Coach Hire take you there.

We have drivers based in central Edinburgh so they can get to all corners of the city and wider region easily.
If you are based out of the area or even beyond Scotland, don't worry, we can still collect you.
If anyone in your group needs to be dropped off at Edinburgh airport to depart by plane, this can be arranged.

When you use St Giles Cathedral coach hire, Scotland soon becomes much more fun to get around with one of our drivers taking the lead.
You and your fellow passengers can just sit back and enjoy the view. Drivers arrive in vehicles selected from a fleet of well maintained, stylish minibuses.
These are available in a number of sizes: 8 seater, 16 seater and 24 seater. We can offer 33 seater, 49 seater and 70 seater coach hire for occasions when you head to the cathedral as a large group.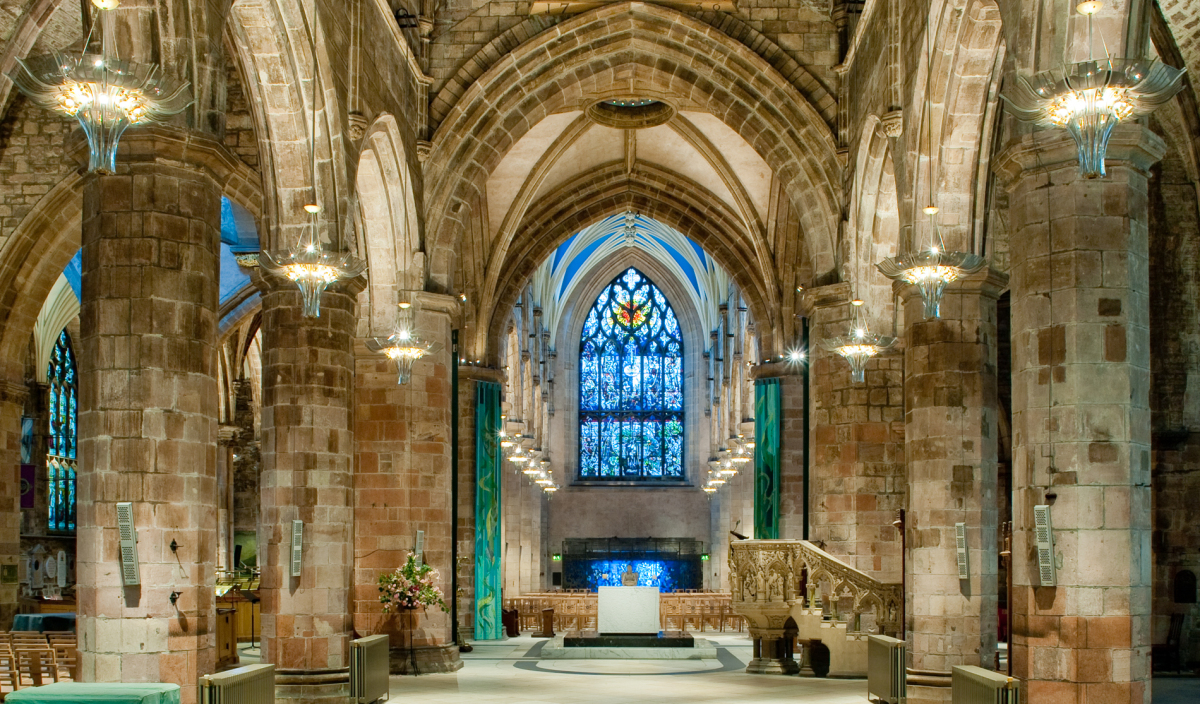 How To Book – St Giles Cathedral Coach Hire 
Making a booking with St Giles Cathedral coach hire is straightforward – just phone, text or email our booking team.
Our punctual drivers will be with you on time, they are never late. So if you have a cathedral service to attend, we will get you there well ahead of time.

Client accounts are available. If you will require ongoing journeys to Edinburgh, a client account is remarkable value for money. Discounts are guaranteed on all your multiple bookings.

We also have wheelchair accessible vehicles available for hire because we are an inclusive company. We're keen to help all travellers get around.




ABOUT ST GILES CATHEDRAL
Everyone who has been to Edinburgh knows St Giles Cathedral; its striking west facade is famous throughout the globe. It is an integral part of the Edinburgh aesthetic.
With a great location on the Royal Mile, the cathedral is easy to get to and is always busy. Services are still held throughout the day but that does not mean visitors are not welcome. 

Once inside you will be amazed by the high, arching, detailed ceiling, the beautiful, light-filtering, stained glass windows. the impressive altar and the immense, mind-blowing organ.
There are also tours that take in the lovely rooftop and its stunning views. You can grab a souvenir in the lovely shop or a bite to eat in the restaurant.
Check before you go as they also host a programme of great events so something may be happening when you are due to visit: recitals or free lunchtime concerts.

St Giles Cathedral is a great place to visit, learn about and explore.  Should you wish to get out of Edinburgh at any time to visit nearby places such as Roslin, Temple and Ratho, our minibus and coach hire is at your service.

To book with St Giles Cathedral coach company, please get in touch with your details. We look forward to hearing from you.

T:  0203 239 4622
E:  [email protected]