Scotch Whisky Experience Coach Hire

With Scotch Whisky Experience Coach Hire why not let us be your designated driver? If you and a group of friends are off to Edinburgh to enjoy Scotland's finest tipple, sit back and relax (or sip it back and relax) while one of our drivers takes you there and back in comfort.

We have a team of drivers based in central Edinburgh so they can cover the whole area effectively. There's never a wait when using our service. The drivers also work across the wider region. Travel with the Scotland Coach Company for afforable travel and tours!
With advance notice we can also collect you from further afield if you are elsewhere in the country. And if some of your group are travelling independently via one of the Scottish airports we can provide a shuttle service to Edinburgh airport or another airline hub.

If you need Coach Hire Scotch Whisky Experience, Scotland and its distilleries become so easy to get around. Our vehicles come from a fleet of professionally serviced minibuses. 
These are available in a range of sizes: 8 seaters, 16 seaters and 24 seater. If there will be a large gathering of whisky fans travelling with you, we can offer 33 seaters, 49 seaters and 70 seater coach hire. And don't worry if you've over-done it on Scotland's finest – all our coaches come with toilet facilities.

How To Book – 

Scotch Whisky Experience Coach Hire
Making a booking is simple with Coach Hire Scotch Whisky Experience – please contact our booking team and we'll do the rest.
Our punctual drivers will be with you on time. They are courteous and very helpful. You will be taken to the Scottish Whisky Experience for a great day out and not have to worry about how much you taste because we'll be doing the driving.

Client accounts are always available. If you will require repeat journeys to the Scottish capital, our specially tailored client account provides great value for money. Multiple bookings are much cheaper with one of these accounts.

There are wheelchair accessible vehicles available. These come with widened doorways, ramps and a lift mechanism.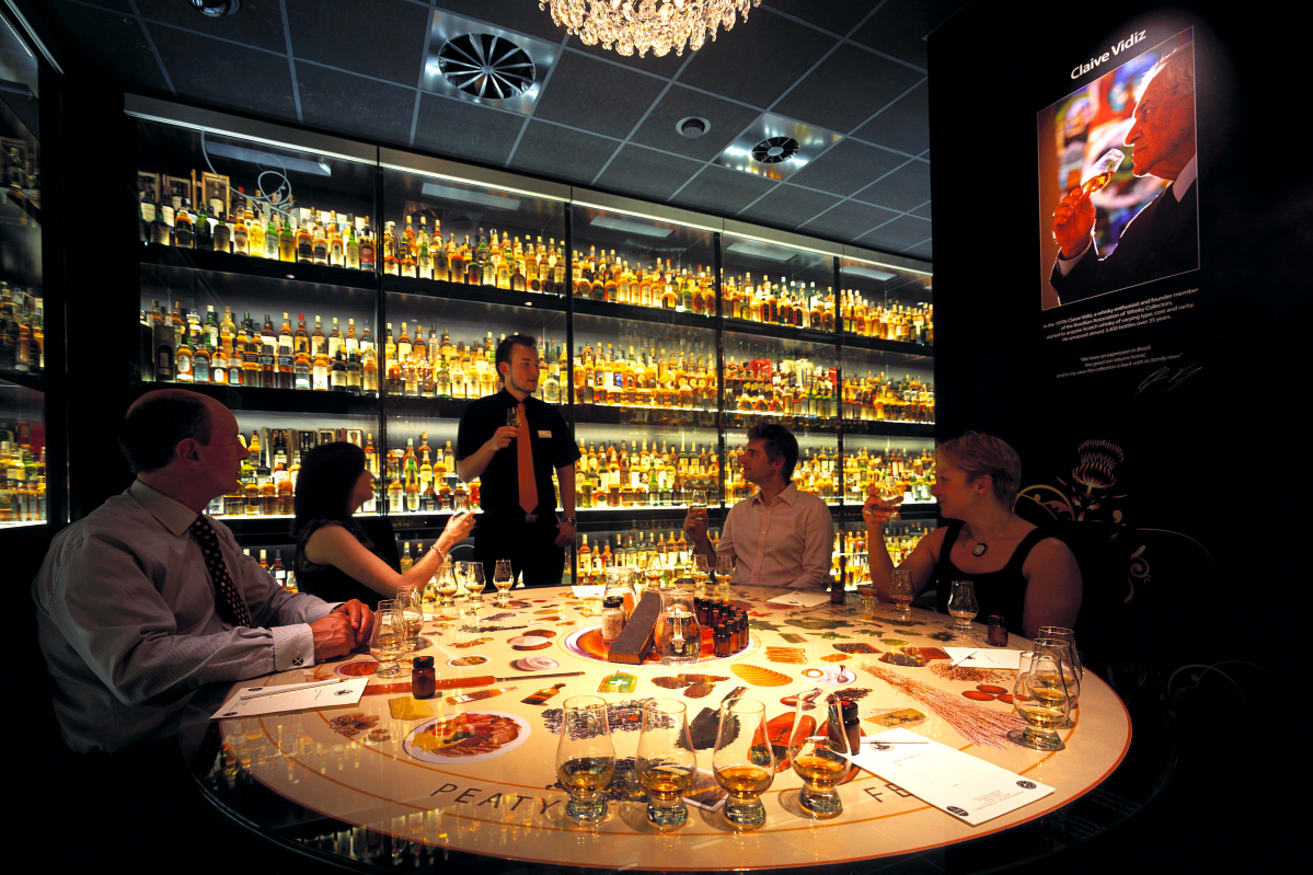 ABOUT SCOTCH WHISKY EXPERIENCE
This is not a bar. Or a museum. And it is not a distillery. So what is it? The Scottish Whisky Experience was created by 19 whisky companies pooling their energy and finance to create a one-stop location to learn about and celebrate Scotland's fine whisky heritage.
It is more of an interactive exhibition where you share time with incredibly knowledgeable staff to learn about Scottish history tradition and the whisky industry today.
And of course, you get to taste the brown stuff. 90% of the country's whisky companies have their product represented here. There are different levels of tour available depending on your standard of whisky knowledge and how much time you wish to spend here.
The experience even has its own Whisky School for the highly trained staff. Whether you just have the odd glass at home or you work in the hospitality trade and wish to brush up on your spirits knowledge, there is something for everyone at this home of whisky in the heart of the capital's Royal Mile.

The Scottish Whisky Experience is great fun with friends or family.
And if you wish to get out of Edinburgh to visit nearby places such as St. Andrews, Glenrothes and Sterling, you can let our minibus and coach hire continue to lead your journey.
Or if you prefer to keep on drinking, we can take you to some great distilleries.


To book with Coach Hire Scotch Whisky Experience, all you need to do is use the details below:

T:  0203 239 4622
E:  [email protected]